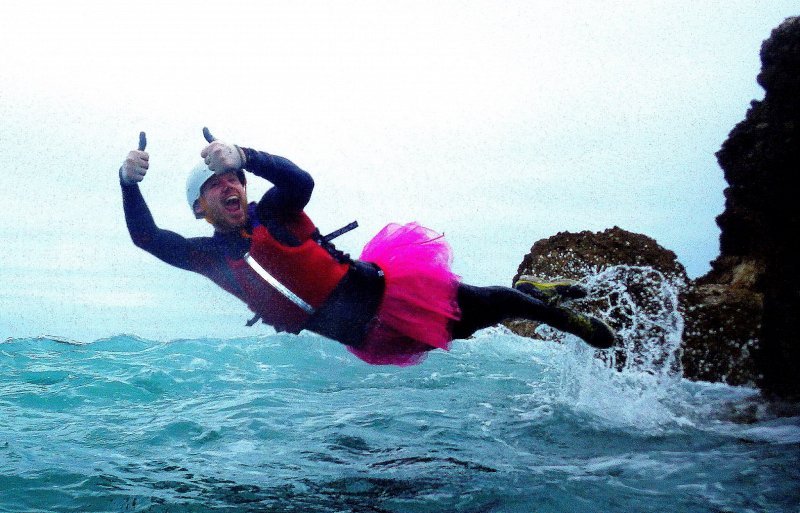 05 January 2015 by Ashley Hone
Early Bird Offer ; JANUARY SALE; Whopping 20% OFF on Stag and Hen group bookings for the 2015 season booked this January.
This fantastic offer is a great incentive to get organised early. This offer brings the participant cost of our half day activities such as Coasteering, Kayaking and Bushcraft down to just £28pp.
Reach Outdoors are ranked the number one activity provider in Devon on Trip Advisor and won GOLD for the Best Tourism Activity or Experience in the 2014 Devon Tourism Awards. Make sure you choose the best activity provider for your adventure activity in 2015.
Terms and Conditions of promotion
• Promotion is valid for a group booking of 10 participants or more.
• This booking needs to be placed with a deposit by the 31st January 2015.
• The person who tags the stag or hen is then eligible to redeem 1 free Coasteering voucher worth £35 between April and September 2015.
• If the same person is tagged more than once, the free voucher will go to the first person who tagged them.
• A Coasteering session with Reach Outdoors will be in Torbay, South Devon and will last for 3 hours in duration. Please visit our facebook page, trip advisor, and website www.devoncoasteering.com to find out more about what is involved with this experience.
• Standard T&C's apply
To check availability for your preferred date and time please email us on info@reach-outdoors.com or call the office on 01626873625.